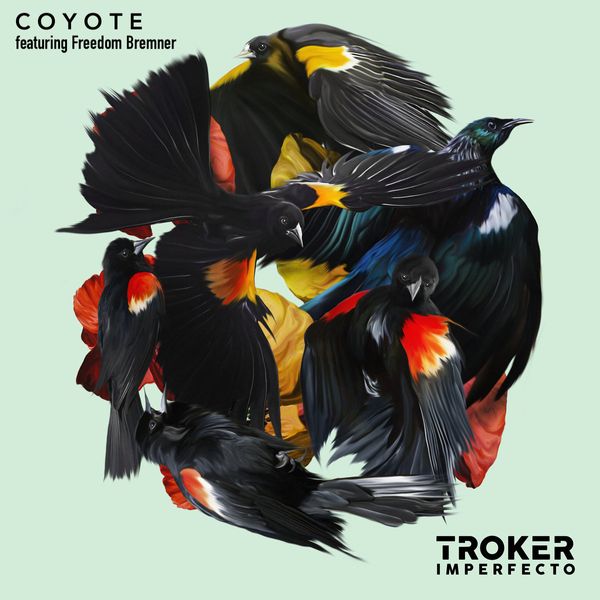 So, I live for these moments when I'm introduced to an artist or group that has their own special sauce. There's a lot of "instant music - just add water"  out there these days.  We all know it.  So I don't have that "wow" feeling as as much as I wish it did, but that's okay, because when it comes,  I really feel it. 
In 2014, however,  I came across a band called Troker at the Vive Latino Festival in Mexico City.  It was also there that I discovered the amazing Colombian metal band Kraken and their lead singer, one of the greatest I've ever heard, the late Elkin Ramirez.  That's a story for another day...back to Troker...their music tasted like psychedelic jazz funk hip hop mariachi gumbo to me, and I was hungry.   Someone wrote "if Salvador Dali ever made a heist movie, then Mexico's Troker would have been the soundtrack music."   Totally!  It's funky it's adventurous, it's got horns, DJ break beats,  it grooves, it's musical and highly thematic.  I dig it. 
So you can imagine my general "psyched-ness" when my friend, bassist, producer and journalist Alonso Arreala, wrote to me from Mexico City to tell me that he was  producing the next album by Troker and that they would like to collaborate with me on a song. YES!  They wrote an instrumental piece called Coyote and wanted me to contribute to it.  Troker, their manager Ana, and I, ended up meeting up for brunch in Jersey City, New Jersey  soon after that email exchange , and we talked about the concept.  We sat around the table with the laptop, passed  the headphones and did a little show and tell.  My former band Screaming Headless Torsos, had just finished the live video of "Running Black Water featuring  Hiromi " and I showed them the final edit of the video and they shared  this new music with me.  I asked them about the name "Troker" which was clearly Spanglish to me, the said, that  "Troker" is Mexican (spanglish) for "trucker", and that their vision was that if truck drivers listened to a progressive jazz radio station, while on the road, this would be the music they would hear. 
So, "Coyote",  was a haunting dramatic piece with different movements and themes.  It created instant emotion and imagery for me. They gave me free rein to do whatever I wanted.  They only direction was that the song needed to be about the journey that many Mexicans and other Latin Americans make across the U.S.M./ U.S.A. border with the aid of the "Coyotes",  the smugglers who are paid to guide and smuggle them.  These immigrants are desperate and they sell everything they own in order to pay the coyotes for this journey.  Many of the coyotes are predators, there are no guarantees,  and there is every kind of danger along the way , and once they arrive in the states,  if they even make it to the U.S.  They said I could be as broad or as specific as I wanted  so long as it dealt with this journey in some way.  I could sing, rap, rhyme,  scat, preach, speak. anything. That was it.  It was not a typical pop song by any stretch, it was challenging.  I had my own feelings about the political issues surrounding it as well as the humanity of it.  As you might guess, I am not impressed by President's Trump's characterization of Mexicans writ large or  his handling of the border security immigration issues, and the highly nuanced interdependency of our two nations. Full disclose. I love Mexico and it's people, and I have been traveling, working, learning, and building relationships there for over 25 years.  So, this was also an opportunity for me to address my feelings. 
At the same time, I was keenly aware that my perspective is also informed largely by American media.  So I did some research as part of my process and talked to my friends in Mexico about some of the politics.  They pointed me in interesting directions,  I did more research and then when I was done with that, I activated "set it and forget it" mode, left the home work behind,  and started to create.   I think I'm most pleased with my decision to sample and incorporate words and thoughts from the last 4 american presidents , and the current president of Mexico, Andres Manuel Obrador, from different speeches they've all made on the subject of immigration. That was a first for me.  The whole process was challenging …..and sooo fulfilling, and I'm really happy with what we did. Mainly, I'm such a fan of Troker that I'm honored to be a part of their body of work.
I'm going to do something counter-intuitive, when it comes to self-promotion.  Of course I would love for you to listen to the whole album. But for now,  I want you to listen to another song from Troker's Imperfecto  first, before mine. I think it will be a good palette cleanser before you hear our collaboration on "Coyote".   You can even skim through these too and come back them later. 
CLICK HERE TO HEAR IMPERFECTO ON BAND CAMP
Here's my suggested order 
Listen to track 3 "Nahual", 
Listen to track 2, " One Thousand Million Eyes" , 
Then Track 9 "Coyote". 
Then, when the time is right,  listen to the whole album. 
There 's a reason Coyote comes close to the end of the record, there's a build to it.   By the way  the song "One Thousand Million Eyes", features  the other guest artist on Imperfecto,  vocalist Renee Moi of "Moi".   She is killin' it.  Love her.  Here is the link to the full album on bandcamp  again.  https://trokermusic.bandcamp.com/album/imperfecto
WATCH COYOTE BELOW ON YOUTUBE OR CLICK HEAR TO LISTEN