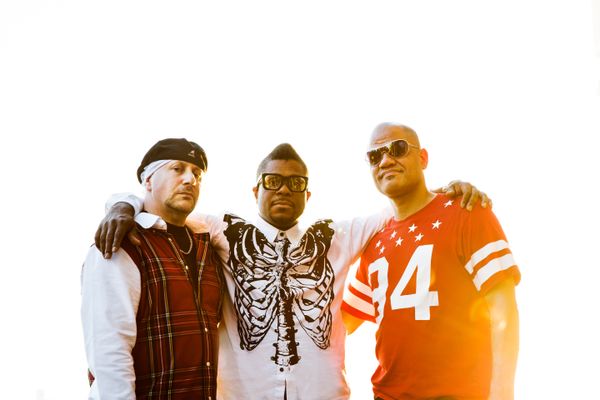 I was not the first singer to front Screaming Headless Torsos and I'm sure that I won't be the last.  
Last week, I let my partners know that it was time for me to move on to new projects and that I would not be joining them for the upcoming SHT European Winter Tour.  So, today I am announcing to friends and fans that I will no longer be singing in Screaming Headless Torsos.   It was a tough decision, but a necessary one that had been on the horizon for some time.  Growth is good and change is good. Great music is really, really good.  I have been making music with Screaming Headless Torsos for 17 years, and it has been my honor.  It's been an amazing experience as a musician.  The band pushed me, educated me, and inspired me.  Performing with the Torsos gave me a level of confidence and freedom in my craft that changed me forever.  SHT has also taken me all over the world and that is my favorite part of being a musician, touring.   The most enduring quality for me, second only to the music itself, is the friendships, the relationships, and the once-in-a-lifetime experiences, that have come as a result of being a part of Torsos. Bands are like families to a large extent and anytime there is a loss of a family member, for any reason,  the entire family feels the loss. There is a period of mourning, a period of heeling, and if all goes well, a period of optimism and rebirth.  I'm experiencing all of that.
When I think of the relationships in S.H.T. , there is none more powerful than my relationship with the fans of Screaming Headless Torsos.  Torsos fans, you are simply beautiful.  You love bold brave music, you embrace and crave creativity and you celebrate individuality.  You are what every artist dreams of.  You are the greatest gift and I will miss you.   Music, for me, has always been first and foremost about story telling. I have new stories to tell, I want to tell them in different ways and I'm anxious to get started. There are new collaborations being released this year with Brooklyn's Nightcaller, Mexico's City's Diego Infante and Guadalajara's ridiculously badass rock-jazz-funk-mariachi outfit, Troker, for starters. I will also be exploring some entirely new ground, trying some things I've never done before. 
I cannot thank the following people enough for what they've given me.  These people are the talented players and team members, the heart and soul, the keepers of the legacy and the infrastructure that allowed Torsos to do what it does.  They've given me a sense of belonging, a sense of place in the world, and a playground to do some of my best work. 
Thank you to David Fiuczynski, Daniel Sadownick, Dean Bowman, Gene Lake, Fima Ephron, JoJo Meyer, Sophia Ramos,  Ahmed Best, Tobias Ralph, Skoota Warner, Steve Jenkins, David Ginyard, Louis Cato, Nikki Glaspie, James "Biscuit" Rouse, Jacob Webb, Francesco Beccaro, Lian Amber, Hallie Block, Gille Amaral, Tom Baggot, Stephan Gehrig, Constanze Schliebs, Alonso Areola, Xavi Estrígana, Emiliano Aranguren, Mario Di Cristoforo, Alberto Castillo, Escuela DIM, Ocesa, and Etin Produccions.  I wish you all happiness, fulfillment, and continued success. 
I am forever grateful
Rock on, 
Freedom