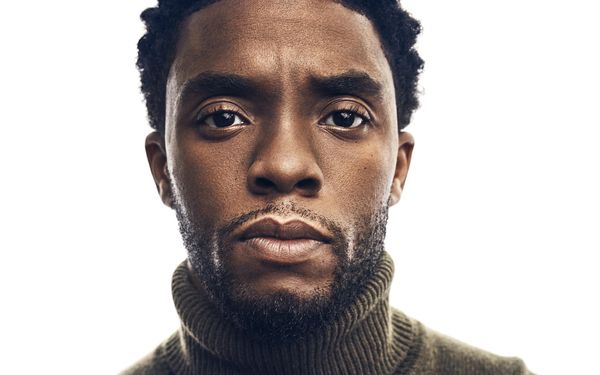 I never met him, but I feel like I knew him. I think that says something about his skills as an actor.  A little bit of his essence, of his soul was in every character he played, and I connected with him on that level, as so many of us did.  It may be because we're both actors, and I feel a kinship with all actors and musicians, it may also be the Howard University family thing. Chadwick went to Howard University in my hometown of Washington, D.C. and so did my parents. My father, his sister - my aunt Joan and her husband, my uncle Bob, they all came from Guyana, South America specifically to attend Howard University.  That's where my parents met, and If it were not for Howard University,  I wouldn't be here, and even though I chose the American Academy of Dramatic Arts in New York,  I seriously considered Howard's Drama School.  My dad was faculty and I could have attended for free essentially.... it was a close call.  With so many years spent, after school at my father's laboratory, in the Howard University Biology Department , I feel connected to every Howard graduate everywhere in the world. Howard is very special place in Black culture, not just African American culture but within the culture of the entire modern African diaspora. It is recognized and attended internationally.  While no institution is without its flaws, it is a mecca of learning, research, the arts, popular culture, and a center of black intellectual thought.
So if you're wondering why I'm making such a point of Howard University, stay with me for a minute, I'll explain.  I once heard that TV mogul Shonda Rhymes, also a Howard graduate, and producer/creator of TV's Grey's Anatomy, How to Get Away With Murder and Scandal, said that there were so many Howard Drama School graduates in Hollywood, that she could staff and entire film production with top-rate Howard peeps. Howard University is like the movie Black Panther.  All of the international black experience is on full display and in full glory, and like Wakanda, it plays a kind of a magical, mysterious, roll in the culture producing great talents that do amazing things, and sending them across the world to do great works. It's kind of hidden from the rest of the country,  but it's right there in plain sight in Washington, D.C.  I'm speaking of DC's fascinating and rich African-American culture, which gave me so much of what I am, and Chadwick was a part of that.  Many Americans are unaware that the District of Columbia is 47.5 percent African-American.  During my childhood it was 68%.  The movies never got that right. It wasn't just all of those cultural ties, though. I felt like I knew Chadwick Boseman because his gift was that special. That's the way it is with all great actors.
I just finished watching Chadwick Boseman as the lead in the crime action drama film,  "21 Bridges" on Netflix last night, a day before his death. I was reminded of how much I really liked him as an actor.  He had depth, and mystery to him. He had that virtuous likability factor.  It just felt like,  he was a good guy at heart.  The film aspired to be better than it was, but Chadwick shined in every scene.  How is it that by age 43, he has played Thurgood Marshall, James Brown, Jackie Robinson and Black Panther? Amazing. He is gone way to soon....way to soon. After finishing the movie last night, i actually thought to myself, "man I can't wait to see what film he does next."  I was a little slow to catch on to Chadwick.  He's one of those actors that will make me support a film just because he chose to be in  it.  I've grown to trust Chadwick Boseman's choices, just as I do with the likes of Denzel and Regina King, John Turtturro , Chris Cooper, George Clooney & Robert DeNiro, and I'm never disappointed by what he brings to the work.  I also thought to myself, "he looks a bit too thin"  and he seemed gaunt,  and in an unhealthy way, but I took it as a character choice, to distance himself physically for the physique of the superhero, he had just swept the planet portraying. Now, I know that he made Black Panther with all of that necessary and amazing athleticism and fight choreography, while undergoing chemotherapy and multiple surgeries for colon cancer. I can't even believe he did that. That is some superhero action right there.  I'm just in shock and a little numb right now with all that is happening, the assault on blackness, that is all around me in America. I honestly have checked out from news and media for the last few days, and now this. 
He was one of the artists who was bringing us light, pride, and insight through his work.  No pandering either. None.  And Black Panther... thank you Stan Lee, thank you Ryan Coogler, thank you Marvel/Disney...and thank you Wesley Snipes for being the first producer to show us that an obscure Marvel character, and a black one at that, "Blade",  with an interesting story could have the mass appeal of a Supernan or Batman if it's done right, and you did it right. You were the visionary, the pioneer and we haven't forgotten.  Black Panther was so much more than a movie. Like the election of Barack Obama, Black Panther was a validation.  It said to the world that our African folk tales and mythology as the ingredients  of superhero origin story, and drama, and nobility, and power and excellence is just as valid, clever, quirky, exciting, and fantastical as Norse mythology or Shaolin legend or the Knights of the round table. ...It was huge, it was epic. It was the diaspora.  It was sooooo African, soooo black. The world made it a hit because they loved it because the film the adventure story was just that good. And there was Chadwick at the center of it. What a legacy.  Rest in Power, Chadwick. Thank you for what you left behind for us to reflect on, aspire to,  and dream upon. You are with us and we are with you forever.